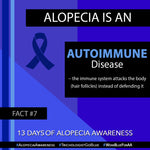 National Alopecia Awareness Month: Alopecia and the immune system
Alopecia Awareness Fact #7

When a person has alopecia areata, the hair will start to re-grow when the body gets the right signals. Sometimes this happens without treatment. Even with treatment, new hair loss can occur. Everything depends on how the immune system reacts.
The following explains what can happen.
* Re-growing hair: It is likely that the hair will grow back even without treatment. It may fall out again, though. Most patients lose their hair more than once before the disease goes away for good. Even people who lose all the hair on their scalp and body can have their hair grow back. When hair loss is widespread (lots of hair loss on the scalp and/or body), there is a greater chance that the hair will not re-grow. When hair re-grows, it can be white or fine at first. A person's own hair color and texture often return later.
* How long it lasts: This varies. For some people, the disease never returns. Others lose and re-grow hair for many years. No one can predict when the hair might re-grow or fall out again. This lack of control makes the disease frustrating.
* Emotional toll: The emotional aspects of living with hair loss can be hard. Our world regards hair as a sign of youth and good health. The good news is that alopecia areata does not affect overall health. It should not stop you from achieving your goals and dreams. You should not let it stop you from doing well in school, sports, and work.
Join me tomorrow Saturday morning at 8am for a FB LIVE to learn more about Alopecia Areata!!
Giving away FREE 15 min consults! Just book your slot on our FB page!
#alopeciaawareness
#trchologistGOblue
#hairlossautoimmune
#bllinGhairrestoration
#healthyhair
#loosingmyhair