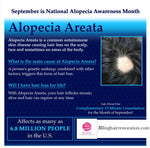 National Alopecia Awareness Month -- Alopecia Areata (FB live #2)
September is National Alopecia Awareness Month and we are excited about it because we get to share helpful information to those who may be suffering with alopecia.
Every Saturday in the month of September 2018, we will do a facebook live on certain topics that may be interesting and informative to those who are experiencing hair loss.
Today's video is our second FB live focusing on Alopecia Areata. Tune in and we hope you find the information helpful.
Connect with us on our FB page @BllinGHairRestoration or you can search for us -- BllinG Hair Restoration & Revival Systems. Looking forward to connecting with you! I
nstagram: @BllinGHairRestoration
FB: @BllinGHairRestoration
BllinG's Blog: https://bllinghairrestoration.com/blogs/bllings-blog
Interested in learning more about the feature product in this video or to purchase it? Go to -- https://bllinghairrestoration.com