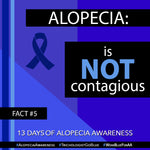 National Alopecia Awareness Month: who gets it and what causes alopecia areata?
Alopecia Awareness Fact #5

Who gets alopecia areata?
People can have this type of hair loss at any age. It often begins in childhood. Some patients with alopecia areata have a family member who also has the disease.
What causes alopecia areata?
Alopecia areata is an autoimmune disease. Autoimmune means that the body's immune system attacks the body. When alopecia areata develops, the body attacks its own hair follicles. A person's genetic makeup, combined with other factors, triggers this form of hair loss.
People with alopecia areata may have a higher risk for:
* Another autoimmune disease such as thyroid disease or vitiligo (patches of lighter skin appear)
* Asthma and allergies, mainly atopic dermatitis (more commonly called eczema) and hay fever (nasal allergies)
* Having relatives who have asthma, allergies, or an autoimmune disease such as type 1 diabetes